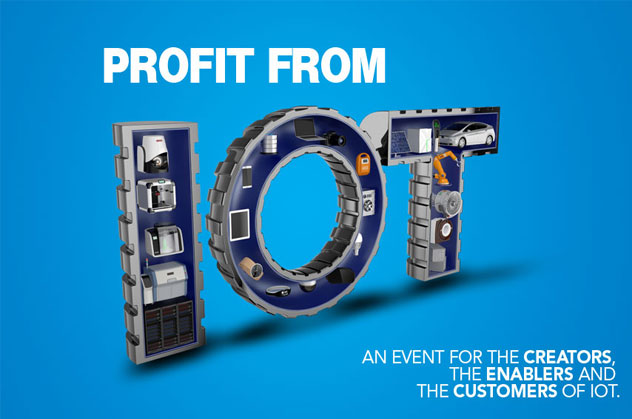 PROFIT FROM IOT
If you want to know how you can "
Profit from IoT
"—then IoTshow.in is the show you visit. The unique combination of a
B2B exposition
and a
tech-plus-business conference
 made this show World's #1 IoT event (source: Postscapes.com)You ask how IoTshow.in differs from other shows working on the same theme worldwide, then the answer is – we focus on the the creators and the enablers too!
THE CREATORS
Developers of IoT products & solutions: Multiple technical conference tracks and workshops have been put together to address this specific audience
Entrepreneurs invested in IoT products & solutions (including start-ups): A unique opportunity to network with the Enablers, the Suppliers and peers from the industry, await you at IoTshow.in. Plus, a conference on Business Opportunities, and a special Innovators' Zone to witness latest IoT innovations from India.
THE ENABLERS
System Integrators of IoT solutions: Come and connect with IoT Products & Solution players. Partner with them. Connect with Enterprise & SME Customers interested in IoT. Figure out Business Opportunities that IoT presents to your firm.
Trade Channel Partners focusing on IoT landscape: Like SIs, trade channel partners too can connect with IoT products & solution providers, enterprise & SME customers, and also get a first-hand update on business opportunities in IoT.
THE MEDIA
IoT-focused media: This is the biggest IoT event you can attend in India, and perhaps Asia. Make sure your audience gets a chance to know what happened here.
Tech-media: Get updated on latest tech trends being created by IoT.
Business media: Get updated on latest business trends related to IoT sector, and the business implications IoT is creating for industry at large.
THE END USERS
Enterprise & SMEs: "Can IoT help you reduce expenditure or increase your sales?" Get that question answered by speaking to leading IoT solution providers. Plus, get the proof by listening to your peers presenting their case studies and success stories, and networking with them in the break-out sessions.