Date: 27th Feb 2019, 
Time: 10:30 – 13:30, 
Venue: Training Hall Vishweswaraya, KTPO, Whitefield
---
We live in a world full of stunning applications. People all around the world surround themselves with incredible technology in order to increase the quality of their daily life. Workplaces are equipped with all kind of gadgets in order to improve the workflow. Intuitive handling and reliability are the most important features. All these applications require smart software solutions, which ensure the desired functionality. And there is the link to the real world: actuators. Trinamic offers the bridge between the digital and the physical world. Without deeper knowledge of the physical requirements, you can easily interface cost efficient actuators and unleash high-end performance. The high level of integration provides an outstanding combination of performance and low design-in effort.
This workshop will illustrate how to transform a standard Raspberry PI into a motion control platform in very few, simple steps. It will interface a Trinamic TMC5130A stepper motor driver with the integrated motion controller. The Raspberry Pi, in this case, is an example of a performant standard platform, as a starting point for product development. The motor control itself won't consume any processing performance. Therefore, the illustrated system is a very scalable approach. It can be extended with more and different motors and provides enough potential for a leading-edge application.
Subtopics covered
Raspberry PI introduction and technical overview
Trinamic solutions introduction and technical overview
SPI communication
Introduction TRINAMIC Motion Control API
Trinamic toolchain
Key takeaways
How to design a motion control platform with a minimal design cycle.
Pre-requisites
Basic knowledge of coding
Basic knowledge of embedded systems
---
Speaker Profiles
Thomas Ernst
Thomas works as a Field Application Engineer in Trinamic. He gained a bachelor's degree in electrical and information engineering at the University of Applied Science in Hamburg, Germany and specialized himself in digital systems. During his studies, he supported the R&D team of Tronical with the development of self-tuning guitars. The combination of the very practical approach of the university and the daily work in the company offered the perfect preparation for a work life in a high-tech company.
In 2013 he entered the R&D team of Trinamic and was charged with the design and develop the modular evaluation system for all Trinamic chip products. The conception and development in this project included all aspects of modern system engineering, like the electrical design, embedded firmware, desktop software, and production topics. This was the perfect opportunity to learn how to implement Trinamic products into systems and a quick way to have a direct influence on the way Trinamic technology can be accessed.
End of 2015 he headed as FAE into the 'field', with the mission to accelerate applications to amazing and successful products. Traveling to different places all around the world, Thomas is helping engineers to find the perfect products, accelerate the development and solve all kinds of technical issues.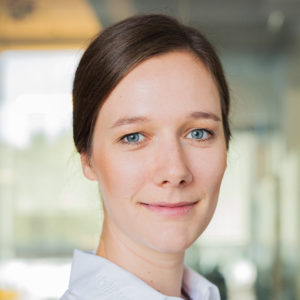 Since 2015 he visited more than 20 different countries and countless companies.
Lisa Teich
Lisa works as a Product & Partner Marketing Manager at Trinamic Motion. During her studies in Industrial Engineering at the University of Hamburg, Germany, she joined TRINAMIC Motion Control in 2014. Here, she supported the marketing team and gained broad insights into motion control.
Through obtaining her master's degree and finishing the required fieldwork at the company, Lisa combines her technical background with experience in marketing to drive the success of Trinamic's products. She is a passionate cyclist and focused on use cases and their technical realization of electric bikes during her master's thesis.
In 2017 she started as Product & Partner Marketing Manager. Besides facilitating and maintaining the cooperation with Trinamic's distribution partners, Lisa also manages the new product development process and looks out for new markets. This fits perfectly with her passion for traveling and experiencing new cultures as her work takes her all over the world.
Dinesh Babu SK
Dinesh started as Technical Support Engineer (TSE) at element14 in 2015 to address customer's technical inquiries.
Closely working with the sales team to achieve predefined targets with higher customer's satisfaction.
Specialized in the field of Development kits and Single board computers (SBC)
---
* ONLY OPEN TO WORKING ENGINEERS. STUDENTS NOT ALLOWED.
* TO PARTICIPATE IN THE WORKSHOP, REGISTER HERE AND SELECT THE WORKSHOP ON"From Standard Platform to Outstanding Motion Application" IN THE WORKSHOP SELECTION MODULE.
---