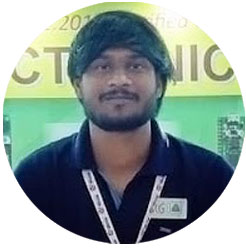 Embedded Engineer | Rajguru Electronics (I) Private Limited
Mr. V. Murari Reddy is an Embedded Engineer working at Rajguru Electronics (I) Pvt. Ltd. He is a Bachelor of Engineering in Electronics and Communication Engineer from PRIST University and currently part of the manufacturing unit of Rajguru Electronics at Bangalore. With his creative mindset he is designing various IOT products under ADIY brand for Rajguru Electronics.
As an individual he is a happy go, confident and determined person. He describes his strength as fast learner and open to learn more within his domain. In his free time, he pursues videography, photography, and music.
UPCOMING SESSION(S) by this Speaker