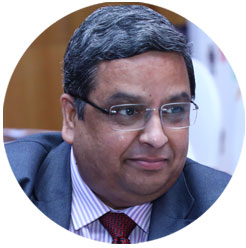 Co-Founder & Director, | TechSys Foundation
Mr. PVG Menon is the Co-Founder of TechSys Foundation, which is working to incubate innovative product companies in the technology space. He has extensive experience in Strategic Management Consulting and has worked with both industry and govt.
In the past he has served as the CEO of the Electronics Sector Skills Council of India (ESSCI), which is India's apex skill development body for the fast growing electronics industry in India. Prior to this, he was a Corporate Vice President with the Vedanta Group, and was heading Corporate and Govt Affairs for the proposed USD 10 Billion LCD Display Fab project of Twinstar Display Technologies.
Between 2011-'14, Mr Menon was the President of the India Electronics & Semiconductor Association (IESA). During his tenure he championed an industry viewpoint which put "India First" for the domestic Electronic Systems Design & Manufacturing (ESDM) industry, and coined the slogan "Innovation Led Design.
Design Led Manufacturing" for the industry. He is a strong advocate of Indian industry pursuing an IPR and Product-led approach for designing world-class electronics 'For and From' India. 
He has rich experience in development, marketing and management of technology, and has worked with leading companies like Philips (later NXP) Semiconductors and Analog Devices where he has built large global businesses and ran globally distributed teams. He enjoys working with Startups and has mentored several high-technology Startups. 
Mr Menon has a Masters degree in Economics from Madras University and an MBA from the Jamnalal Bajaj Institute for Management Sciences, Mumbai. Mr Menon was conferred with the prestigious Silicon India-Mentor-Graphics Award for Outstanding Individual Leadership for the VLSI/ Embedded Systems Industry in India in 2013.
UPCOMING SESSION(S) by this Speaker
1. KEYNOTE PANEL DISCUSSION: THE CHALLENGES THAT HIGH-TECH STARTUPS FACE, AND HOW TO SOLVE THEM (Read more about this session)