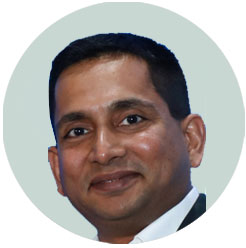 Senior Director, Head of IoT Team | Samsung R & D Institute India Bangalore (SRIB), Pvt. Ltd.
Mr. Ravindra Shet heads the IoT Team at SRIB. Ravindra' team is successfully deploying Samsung IoT platform "SmartThings" across the globe, with large-scale End-2-End cloud development to support millions of Samsung devices and partner devices, with high security and reliability. along with mobile-based SmartThings app for phones and CE devices. Continuously researching converged experiences for Samsung consumers , with data analytics and machine learning techniques at EDGE and CLOUD for large volume offline and real time data processing .
Questions we try to answer – Can my home appliance predict and automate my daily routines? Alert me when high voltage appliances are on, when I leave home? Looks after my house when I am not around, including my pets and plants? Can it adapt to me as I grow old?
Ravindra has also been instrumental for Samsung technologies that enable devices to talk to each other – IMS telephony , you now enjoy from telecom operators. On Samsung Gear watch with phone & wearable protocol, Phone & TV protocol released in Samsung Ubox Magic ad campaign with LiveCast. Working with Microsoft for Phones & PCs to work seamlessly, MirrorLink /Android Auto between phone & car deployed across the globe, phone & the emerging smart cities using 5G tech . Pivoted Samsung India team portfolio from image editing to phone camera R&D of multi-frame computational photography launched as HDR mode on Samsung S3 onwards, released a basket of image and video CODECs for Samsung' first 3G phone and also Samsung Account ID infra.
Ravindra has done his masters from IIT Delhi in Computer Technology and his bachelors in Electronics & Telecommunications, from GEC, Goa. Ravindra holds 6 patents and published 4 papers.
UPCOMING SESSION(S) by this Speaker
1. FUTURE OF SMART HOME ECOSYSTEM WITH MATTER STANDARD (Read more about this session)